This section has been superseded by JowettTalk and JowettGallery. This section carries extracts from the club magazine as well as other news. For a regular monthly mailing join the Jowett Car Club.
The Club has many families with generations of Jowett owners. To encourage our Junior Members to enjoy the marque we have a Junior membership. Here is their page from the magazine . If any Juniors would like a page on this site please mail webmaster
---
Gordon Wilkins in 1939.
Goodwood Revival 2006 where XMG 258 was used as a Taxi to ferry VIPs around the circuit and to their hotel. Many famous racing drivers sat on Benjamin's leather seats.
Pictures from Australia where 50 cars attended. Here are some social shots.
Also see George and Nezley Dawson's contribution.
---
14 March 2006
Newspaper article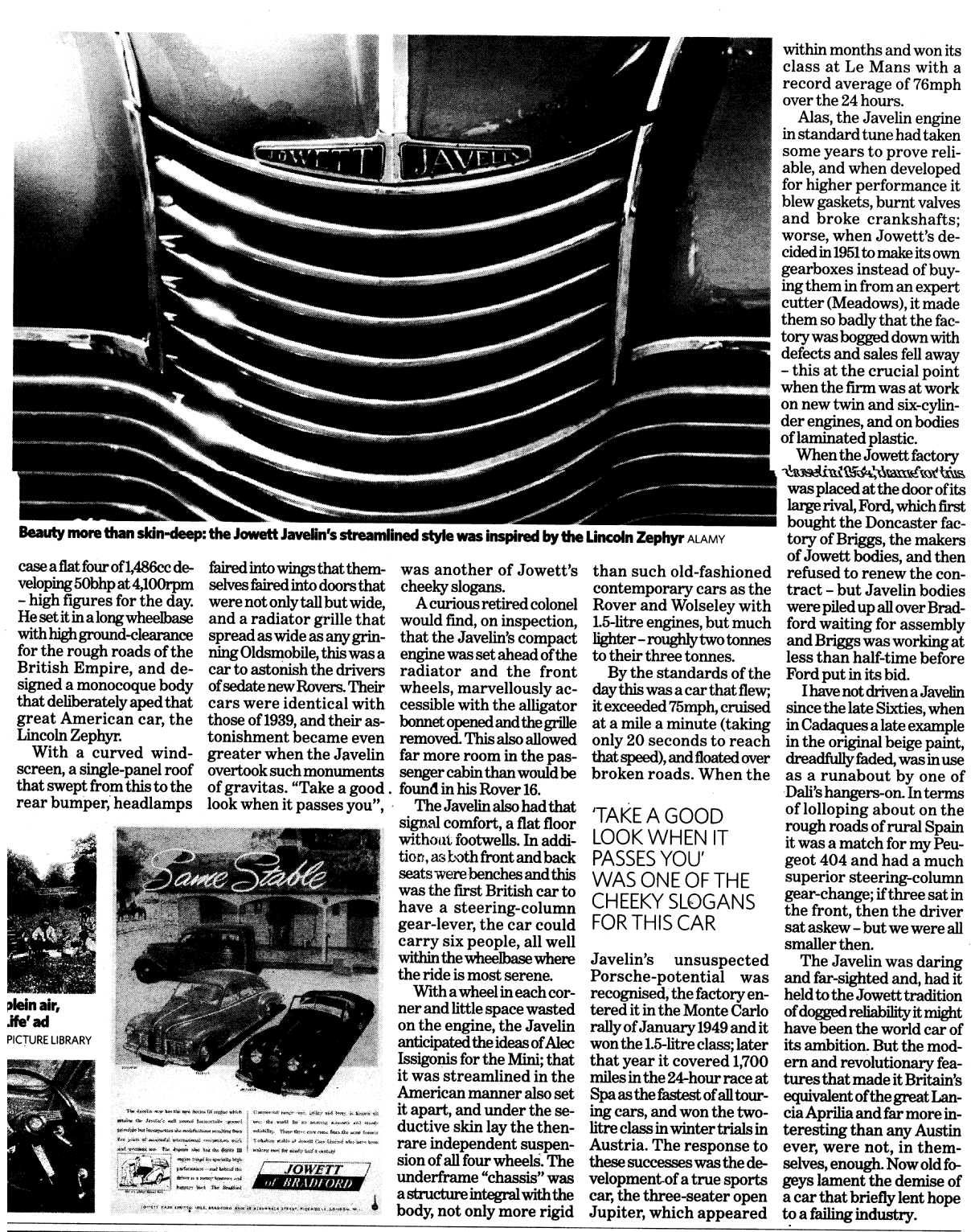 24 February 2006
Jenny Clements in the late Fifties posing with brother and father. Can anyone identify the Jowett? Apparently it was fabric covered.
25 April 2003
See the entry list for this year's Tulpen.
8 January 2003
On May 11th in Aix-les-Bains Hugo van Zuylen van Nijevelt will begin to relive one of his and Jowettís greatest achievements; the outright win in the Tulpen Rally 50 years ago. Hugo was the first Dutchman and the youngest competitor at 23 to win the rally and still remembers the emotion he experienced on receiving the trophy. In addition to that achievement, Hugo also won the team prize that year. Here is Hugo's scrap book!
Thanks to John Blankley, Hugo will be competing once more in a Jowett Javelin, this time with Keith Clements sitting in the navigatorís seat. Hugoís experience will be complete if the rally organisers allocate the Javelin with the same competitor number as it had 50 years ago, as Hugo still has the car plates and numbers (53) which coincidentally was the year the Javelin won. Huge interest is expected at such a replica of the event, especially from the motoring press and Jowett enthusiasts.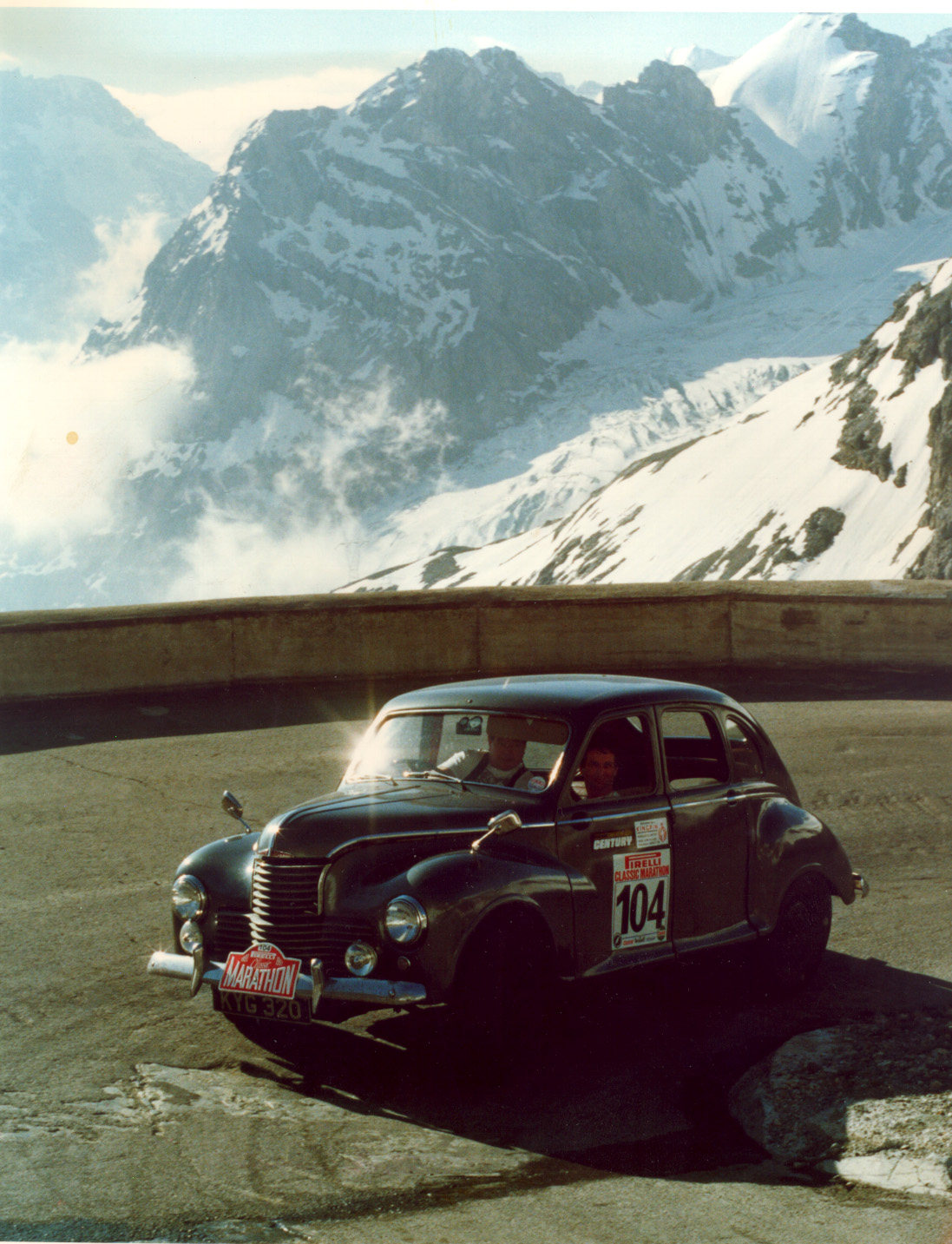 In the first week of January, John and Keith met with Hugo and his wife Carine to discuss preliminary arrangements. It is hoped that a team of Jowetts will compete in the rally and that there will be an entourage of other enthusiasts to watch and support those taking part. The rally finishes on 17th May in Noordwijk in Holland, travelling via Malbuisson (France) on 13th, Riquewihr on 14th, Luxembourg on 15th and Oud Turnhout on 16th May.
Further articles will follow on progress of the teamís preparation for this exceptional event. View http://www.tulpenrallye.nl/ or http://jowett.net/ for more news.
Here is the leaflet from the rally, plus the picture in this year's regulations of Hugo presenting last year's winners.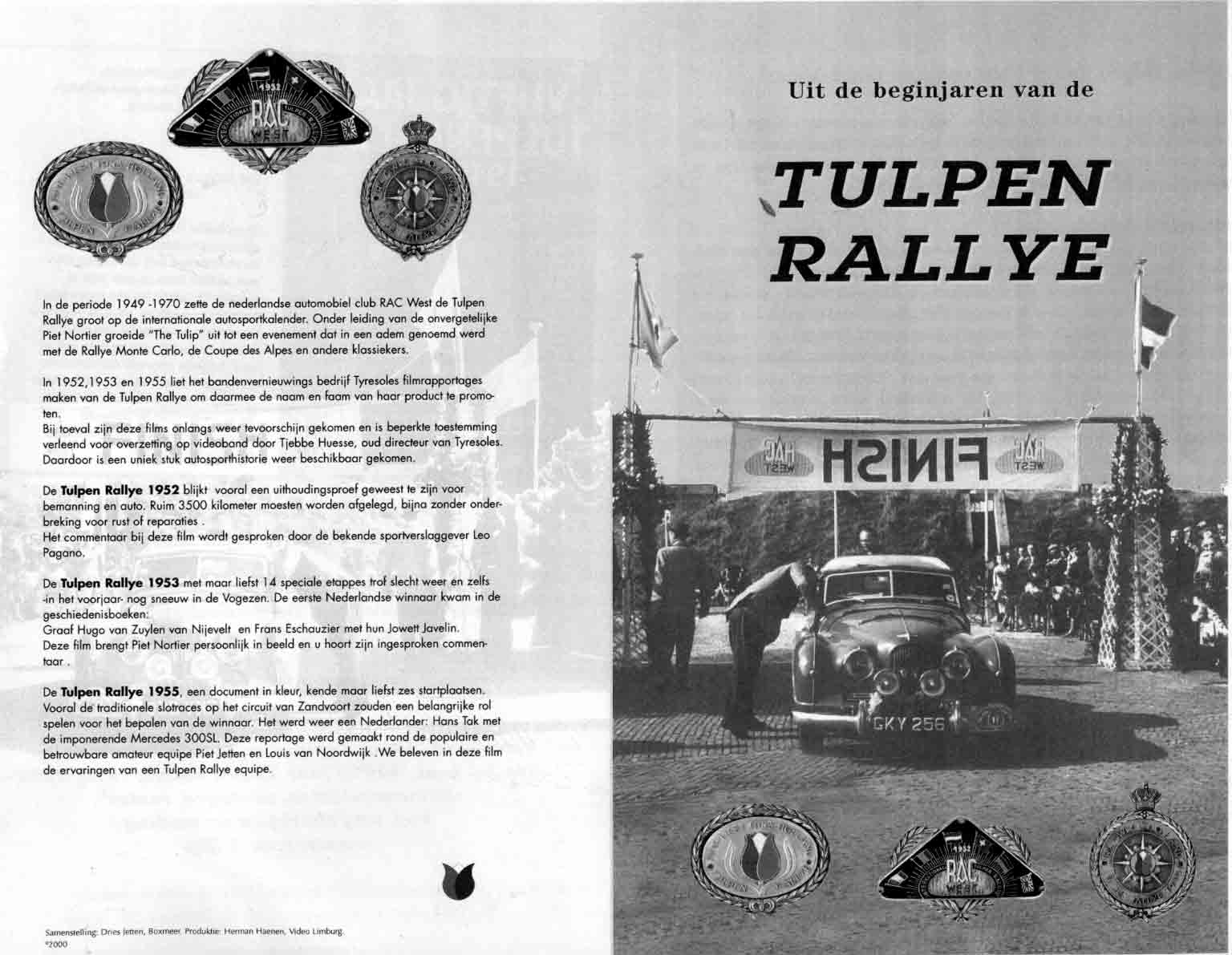 ---
Just a word to say thanks for the site it brought back many memories of Javelins and Bradfords. My working life was spent as a motor mechanic and in 1954 I joined Boroughbury Garage here in Peterborough, at this time they had a dealership for Jowett cars and I became the head mechanic in a very busy workshop, later on we took over a main agency for Volkswagen, and I qualified on this make, having sat several courses in London and Doncaster, but that is another story. However my work on Jowetts brings me many happy memories, stripping the engine on the Javelin was interesting to say the least, the two halves of the crankcase had to be vacuum tested when bolted together, we made various special tools for carb tuning as they were apt to propel the car very very quickly when set together correctly. The Layrub prop shaft couplings were some thing else to keep in balance we used jubilee clips, and when they were right they gave the car a near perfect take up. Altogether the Javelin was a superb car, well ahead of its time, but I loved the honest straight forwardness of the Bradford van, if it did'nt need it you'd never find it, in those days a decoke was a must every few thousand miles, so you remove the front wheels then the access plates to get at the heads, I got decokes down to a fine art but I rarely matched the factory times. I have downloaded the repair gen just to wander through the work and jog my memory, and also refresh things mentally. Later after going as high as I could within the system, I started my own business and it kept me well for thirty years, now I am retired but I shall always have a warm affection for flat engined cars from Idle, and the many, fun hours, working on them. If Fishers the body people had'nt sold out to Ford maybe there would still be Jowetts about, so you and your members, have my sincere thanks, for keeping this lovely old marque, alive.........
Bruce Coaten
---
12 Sept 2002.
This was sent in by a previous owner of NKD, Peter Lightfoot, who owned it from Nov 1966 till Mar 1968.
His brother, Ralph had it from Sep24th 1965 till he gave it to Peter.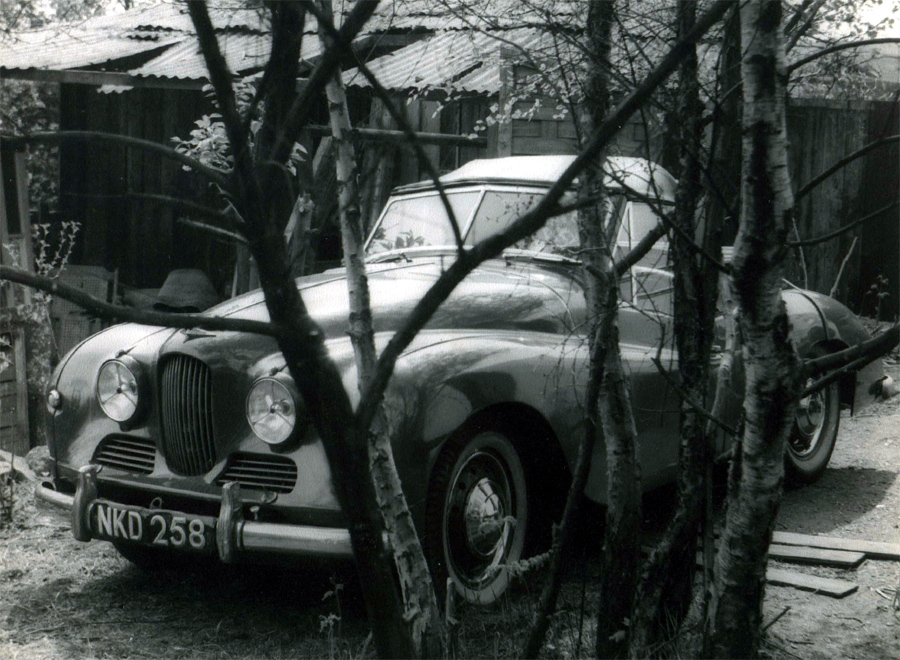 Please excuse this email but my nephew Richard has badgered me into sending you this attachment. Your car was originally owned by my brother, (now deceased) and then I acquired it in the late 60's when he needed a 'proper family car' ! Richard currently races a 1968 Triumph Spitfire. In 2000, he was British Champion in the Hill Climb Classic Saloon Car class, driving a friend's Triumph Vitesse. Obviously he has taken after his dad in his love for the classic car.
I hope the twin carbs have now settled down and don't go out of balance every 15 miles!
Good luck with your adventures.
Pete Lightfoot.
Dear Sir. 24 June 2002
The following may be of interest to you;
I have come across this photograph (I have the original negative ) of my uncle at the side of a Jowett Car. The registration
No is W-149, which is Sheffield I think. I do not know if he actually owned it. His name was Hubert Coldwell, and he lived
at 153, St Lawrence Rd. Tinsley. Sheffield. The house is still there, but the photograph was not taken there. Date I would
think around 1925, note the Union Jack.
I would be pleased if you could give me any information regarding the vehicle, and if you have any further interest in this
photograph please contact me.
Mr C.L. Wade.
---
Here is news from Frank Woolley. .
Prescott 9th June 2002
Only one Jowett finally entered Prescott, LBY254.
It was a very wet event with the first three runs in pouring rain. The final run was half wet and half dry. A bit tricky going through the Esses. Itís now got Armco barriers each side and there presence puts you off a bit.
I botched up the final run by not changing down to 2nd for the Pardon hairpin bend. In the wet it was not necessary as I could keep the revs up but on a dry surface the Jup struggled a bit to pick up the RPM.
Not a bad day and certainly not the slowest in the class. See results sheet.
Car	Class	Practice 1			Practice 2			Event 1			Event 2
Austin Healey Sprite     	3	62.07	3.6	39.3	95.15	3.52	63.63	62.52	3.42	39.24	56.47
Jowett Jupiter           	3	71.18	4.16	45.87	71.4	4.03	45.81	71.56	3.91	45.84	67.39
Austin Healey Sprite     	3	72.68	3.75	46.52	71.66	3.86	45.76	72.26	3.51	46.23	68.98
Lester MG-T51            	3	70.31	3.65	45.44	72.75	3.97	46.41	68.78	3.74	44.01	65.46
Austin Healey Sprite     	3	65.99	3.78	41.78	66.31	3.64	41.77	65.96	3.98	41.85	60.84
TVR Grantura Mk1         	3	71.76	3.55	45.46	71.75	3.84	45.63	71.95	3.64	45.74	66.84
Austin Healey Sprite Mk1 	3	62.31	3.64	39.52	65.41	4.03	41.28	62.4	3.35	39.24	 FAIL 
Cooper MG                	3	70.71	3.69	44.81	72.99	3.97	46.67	74.05	3.89	38.3	67.62
Darque MG                	3	70.42	4.26	45.8	72.55	4.61	46.66	71.28	3.83	9.33	67.52
Austin Healey Sprite     	3	63.78	3.32	40.88	63.78	3.4	40.86	65.91	3.85	13.42	60.45
Austin Healey Sebring    	3	72.83	3.24	45.37	75.91	3.87	48.17	76.48	4.18	13.14	66.23
Lotus Mk6                	3	77.95	3.71	49.78	76.22	3.68	48.28	78.45	3.68	7.23	73.92
Austin Healey Sprite Mk1 	3	62.33	2.89	35.49	64.98	3.42	40.95	66.26	4.53	11.29	59.46
Triumph Spitfire         	3	60.86	3.59	6.02	64.63	4.16	41.64	63.46	4.31	2.48	58.73
Austin Healey Sprite     	3	58.01	2.86	9.25	62.74	3.75	40.09	61.6	4.05	39.63	57.04