Search jowett.org and .net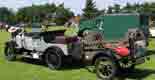 Please try to find what you want by typing in the box below.

Jowett.org contains older information prior to April 2006 (including the old JowettTalk) and some newer infomation that is accessible to the public. Jowett.net has some newer information; although most is hidden from public view and only available to registered users. Click the radio button of the site you wish to search.

Jowett.org Jowett.net

If registered and logged onto JowettTalk , you can search through years of discussion on Jowetts using JowettTalk's search facility.

If you are a club member, you can register on the JowettGallery and search the club archives and personal contributions from hundreds of club members using its own search facility.