44—WESTERN DAILY PRESS, THURSDAY, DECEMBER 12,2002
Motoring
A tough northerner is Yorkshire's pride
CLASSICS
By Nick Baldwin
ALTHOUGH it is fifty years since the last Jowett was sold it is amazing how many people have positive memories of the tough little Yorkshire marque. Mention the Bradford, a two cylinder van or utility, and people enthuse about its hill- climbing abilities. Refer to the - Javelin and they'll tell you how it was Britain's first really modern car after the Second World War.
Everyone seems to think that its demise was linked to Ford which was buying bodywork from a mutual supplier. In reality body maker Briggs realised which side its bread was buttered on and wisely concentrated on prompt payer Ford.
Jowett had made horizontally opposed twin cylinder vehicles since 1910 and even before that had made engines for that other famous York shire business, Scott Motor cycles. A few four cylinder cars had arrived in the 1930s (by when the Jowett family was involved with the Bristol crawler tractor, naturally Jowett powered) but it was the postwar Javelin that really set pulses racing. Because of its teardrop shape many assumed that, like the new Beetle, it had a rear engine. In reality it also had a horizontally opposed four, but it was at the front, larger at 1.5 litres and was with water cooling. The unit was exceptionally accessible under a completely raised nose. It was a great c - to travel in and an exciting c to drive with its rack and p - ion steering and all-round torsion bar suspension. It could outrun most cars on the road and it became one of the most desirable cars of the era in Britain and on the Continent Almost 25,000 were sold plus around a thousand sports car derivatives called Jupiters. Both models clocked up com petition successes including the latter's class victories at Le Mans in 1950, '51 and '52. Unfortunately for Jowett the XK12O had arrived from Jaguar by then and a whole raft of cheaper sports cars from MG, Triumph and Austin-Healey were dominating the market. Jowett simply quit whilst it was still ahead, thus maintaining its untarnished reputation.
The Jowett Car Club has origins dating from 1922 which makes it the first one make car club in the world. It keeps the name very much alive.
Export drive:
Jowett sales director C Callcott Reilly with the first production Javelin in 1947.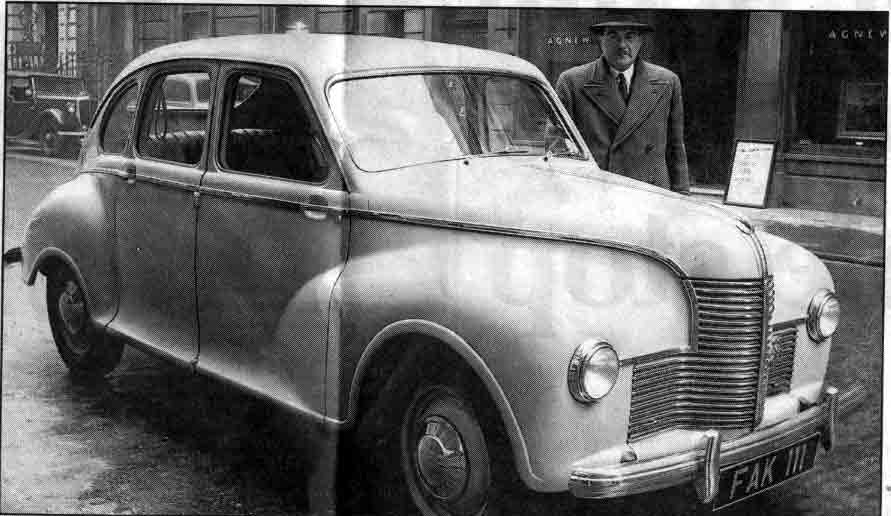 WEBMASTER. Writer has some confusion between Jupiter and Javelin regarding bonnet.