These are some of the modifications performed on Keith's Jowetts.
Disclaimer:
Please note that all information contained on this site is given in good faith. If it is used then it is the user's responsibility to ensure that it is applicable and valid. No liability will be accepted by the provider.
Pictures of a mod to the oil filter housing gasket available from JCC Australia.


The necessary wiring changes are shown in the two diagrams for alternator and dynamo. Some rallies insist that dynamos are used. Note these are active pages that need Internet Explorer 4 or above. You can pan and zoom the schematic, and search for components. Please let me know of any problems. For those who do not have this software, please try the charts and tables below.
Halogen tail/stop 12v 35/15w at least twice as bright at the rear from Andrew Brock, Classic & Vintage Bulbs +44 2082990299. He also does the rear Number plate, festoon indicator and front side bulbs in halogen to make them more reliable and brighter. Be seen , do not be hit!
The following were done on the Javelin mainly by Ben Shaw, the only previous owner.
I think this marble wheel is non-standard.

The Kenlowe electric fan and thermostat control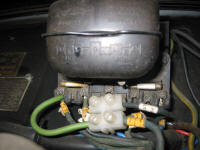 The alternator bypass to the regulator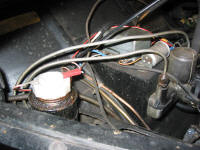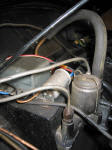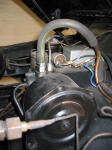 The brake fluid level switch, vacuum assist brakes and indicator, hazard and trafficator electric relays.

The jack, pump, wheel brace and rubber plug for the jacking point on a Javelin. Not a mod but somebody asked for pictures.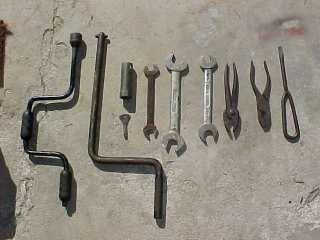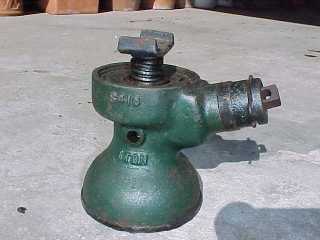 From Huntley Perry. The correct Jupiter tools and jack.
This is the pair of castings glued into the pump and timing cover and then bolted together to replace that rubber pipe that bends under the tension of the dynamo.
And now for ones on the Jup........


This is the towbar that was fitted to the Jup .

This is the sump guard fitted with wooden spacers to absorb the shock and protect the chassis. Worked when we yumped onto a boulder kindly placed by some Bedouin kids.

The aly rad with fan. Note the bottle to collect any boiling fluid. Never does now, but was useful in the past. Also note the gearbox oil filler pipe. Saves a minute or two in a rally.

Here is the oil cooler fitted on the front bulkhead. Lots of air and keeps clean and well protected. The big black cables are for the battery cut out necessary for racing.

The Delorto carbs fitted on to slightly moved studs. The Javelin has an adaptor plate that fits onto original holes. Note the 65A Alternator for those Winter rallies. The Piper filters cost a fortune and were covered with vacuum cleaner bags in the desert.

The dash with Halda Trip and Speedpilot. Also note the twin temp gauges measuring both head temperatures. Two rev counters. The one on the column is so I can see it when racing as you cannot hear the engine even at 5500rpm. I guess the small steering wheel, map reading lamp, Velcro for pencils and stop watch, bucket and fire extinguisher count as mods. Horn push is in cigarette lighter hole so that is accessible by navvy, useful on Italian bends. Switch panel below oil gauge on the right for overdrive, rally lamps, washer and heater rheostat. Yes I know the heater has been removed for the desert!
Fuse

Use
Amps max
1
horn push, stop light
3.5
2
ignition, petrol pump,gauge
4
3
heater,washer, wiper,overdrive
6.5
4
gauges, fanthermo,overdrive latch
4
5
horn, reading and hand lamps
12
6
clock, indicators
4
7
radiator fan
8
8
panel and side lights
5
9
headlamp
16
10
spotlamp
16
11
diplamp
16
12
foglamp, rear fog
8
glove
lamp relays
2
RELAYS
overdrive
rad fan
dip
fog
spot
head
horn
Driving lamp combinations
Lamps- spot, head, dip.
Switches- new double pole, old wiper and heater.
| | | | | | | |
| --- | --- | --- | --- | --- | --- | --- |
| s | h | d | | hd/sf | w | h |
| - | 1 | - | normal head | h | - | - |
| - | - | 1 | dipswitch | h | - | - |
| 1 | - | - | country head | s | 1 | - |
| - | - | 1 | dipswitch | s | 1 | - |
| 1 | 1 | - | rally head | h | - | 1 |
| - | - | 1 | dipswitch | h | - | 1 |
| 1 | 1 | 1 | max head | h | 1 | 1 |
| - | - | 1 | dipswitch | h | 1 | 1 |
max also acts as contingency for headlamp failure
Note knobs on switches are moved from original positions
Centre panel configuration
Indicator Switch
Dip (marked W) Spot (marked H)
Ignition L Indicator L
Rear Fog (marked F) Panel
Horn is in cig lighter
Right Panel Configuration
HD/SF, Overdrive ,Heater, WashWipe
All components have separate earth feed back to central earth point. They do not use chassis.
Other electrical mods.