This page shows one way to fit an overdrive to a Jup.
The cross-member between the battery boxes needs to be cut and some supports welded onto the chassis.
Some additional 'fitting' to allow speedo drive to enter battery box

and cutting of the floor and shaping of the floor support is needed.

The centre support rubbers were changed to suspension metalastics welded into the holes where the rubbers should go.

A prop shaft from a Reliant Robin was used.




It needs grinding away since the angle of travel is great since it is so short. The setup survived Marathons across the Sahara even at full yump though I did fit a restraining rope to prevent full bounce travel.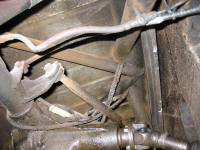 The adapters and reconditioning of the OD unit were done by OD Spares, Coventry +44-1203 543686.
Disclaimer:
Please note that all information contained on this site is given in good faith. If it is used then it is the user's responsibility to ensure that it is applicable and valid. No liability will be accepted by the provider.