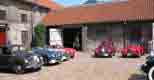 Car Buyers Checklist

Buying a car is one of the most important - not to mention expensive – investments you will make in your life. It's vital you get it right. The margin for decision-making error is greatly increased when looking at the used car market, as there can be so many hidden problems that you simply wouldn't have to worry about with a brand new vehicle. Use this handy checklist to ensure you're not getting ripped off.

INTERIOR
- Do all the controls, switches and displays work properly?
- Do all the lights work?
- Seats and carpets should all be dry. If not, is there a leak?
BODYWORK
- Ensure the bodywork is entirely free from dents, scratches and rust. Even apparently minor damage will only get worse over time, and can depreciate the car's value quite rapidly.
- Ensure you are not checking for faults in the wet or the dark, as you are more likely to miss problems.
- Have a thorough look along the sides of the car to help you spot minor dents that may be invisible from other angles. Squat down to do this properly.
- Check behind the rubber seals around the windows. Look closely at the paintwork – is it free from over-spray? Are there any unusual repair signs that make you suspicious?
- Look out for additional paintwork, or ill-matching spray marks. If things aren't quite matching up, you are probably looking at a repair job after an accident.
- Open the boot. Is the metal work in good condition? If there is exposed metal you should check for ill-matching colours or buckling. Open the bonnet and look for the same giveaway signs of an accident repair.
ENGINE
- Warm up the engine. The exhaust should be entirely smoke-free, or there's a problem.
- The coolant reservoir should be full of brightly-coloured coolant, not empty or brown. If this is not the case, there may be a leak you have not discovered.
- Is there plenty of clean oil in the engine?
TEST DRIVE
- Loosen your grip on the wheel. The car should still be driving in a straight line.
- Does the steering judder?
- When the car pulls away and brakes, it should be free of noise and judder.
If any of the problems above present themselves, you should ask for the car to be professionally inspected by an independent expert. Remember, this is a huge purchase you are about to make – do not rush into it if there is anything you are unsure about. Once you have purchased the vehicle, make sure you get fully covered by a reputable insurance firm – try Footman James for a reasonable quote on car insurance.