Search jowett.org and .net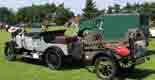 The Jowett.net resource has four main components the web pages, the forum, the gallery and the archive- each use a separate search facility and organisation but they can all reference each other to bring things together.

Please try to find what you want by typing in the box below or using one of the other search facilities in the links below.

Jowett.org contains older information prior to April 2006 (including the old JowettTalk) and some newer infomation that is accessible to the public. Jowett.net has some newer information; although most is hidden from public view and only available to registered users. If you want to search the web pages click the radio button of the site you wish to search and enter the search word or phrase.

Jowett.org Jowett.net

If registered and logged onto JowettTalk , you can search through years of discussion on Jowetts using JowettTalk's search facility.

If you are a club member,you can search the club archives and personal contributions from hundreds of club members using the Gallery search facility.

Alternatively you can navigate through the Gallery explorer view in its left panel to find things. In addition to the main albums such as 'Technical Library' items can be found in the Legacy Project , Public Albums , Club albums and in Personal albums, for example.

The Gallery search relies on contributors usefully describing the content. Content in documents cannot be searched but if the text is extracted and put in the description or as a comment it can be searched. This is an example of OCRed but unedited searchable text. Please have a look at contributions here.

The archive requires a subscription. It currently contains all the Jowetteers in pdf documents. The search system is currently using an Adobe product but the on-line search is quite difficult to get working using these instructions. The content is available on DVD which gives a faster easier search.