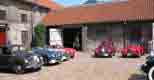 Contact Information

Postal address for club mail.
The Secretary, JCC Ltd, 152 Belper Lane, Belper, Derbyshire, DE56 2UH, UK.
---
Electronic mail
Please use the requests form selected from the left panel. These mailboxes may not be regularly read. If you do not receive a reply in the timeframe you desire, please inform the webmaster or contact the secretary by post. Alternatively please register and then (when your account is activated) log on to JowettTalk and communicate through the Private Messaging or email facility. Posting a topic on Jowetttalk is the best way to ask questions about Jowetts.

For general information contact the PressOfficerLibrarian

Members not resident in the U.K. may find it easier to communicate and pay for spares and subscriptions through the InternationalSectionSec. Please mail him for details.
---
Spares
Spares are only available to club members. The phone line for spares is manned from 19.00hrs to 21.00hrs GMT or BST every Monday evening, except Bank Holidays.
Telephone and Fax

+44 (0)1274 501 862. This number is only to be used for parts enquiries.

Postal address for spares - see Jowetteer magazine.

Jowett Car Spares is based in Bradford, UK.

Choose spares on the Requests form to contact by email.
UK members can make payment for Spares using this Bank Account
NatWest sort code 51-70-19 , Account no.: 80115616
but please advise by email the detail of the transfer and make sure your name and invoice number are in the transaction reference.
Overseas members can make payment via the International Secretary's VISA facility. Please contact him.