The Jowett Car Club Limited
The Jowett Car Club is international and offers a monthly magazine, library, parts, spares, technical information, events, motor-sport, rallying and global contributions from its members.
90 Years Old
An advert that appeared in the Bradford Telegraph and Argus on 12 May 1922. From this came the Southern Jowett Car Club, to which the present club can trace its ancestry. The Southern Jowett Car Club held its first rally on 26 August 1923.
The car in the logo from a period photograph taken in 1923 on the Scottish Tests rally is a 1923 Short Two that is still alive and well. Click on the logo to see a high definition image.
Come and see this car along with about 100 Jowetts of all ages which will be together at the Milestones Museum, Basingstoke, Hampshire, UK on 25th and 26th May 2013. See this thread on JowettTalk for latest details.
Classic Car of the Year, 2012
Alan Bartlett's 1934 Long Four wins 'Classic Car of the Year 2012 in association with Lancaster'. Click the link to read his story in JowettTalk.
Club of the Month
Practical Classics Club of the Month November 2012. Why?

Follow progress on JowettTalk.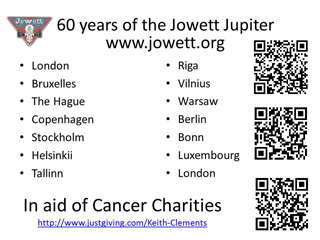 12 Capital Baltic tour
Follow the 60th anniversary tour of 13 countries and visiting 12 capitals here.

In aid of Cancer Charities, click here to give.

Watch the promotional video here.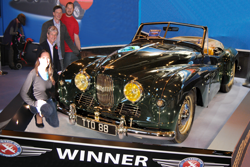 Classic Car of the Year, 2010
An SC Jowett Jupiter was the 2010 Classic Car of the Year!

Read the saga of why this deserved to win on JowettTalk-Great SC rebuild or Amy's call to action.
Our Mission
To celebrate classic British cars made in Bradford from 1906 to 1954 namely- Jupiter, Javelin, Bradford, Jason, Black Prince, Curlew, Kestrel, Weasel, Flying Fox, Falcon, Long Four, Focus, Blackbird, Kingfisher, Black Prince, Wren, Grey Knight, Silverdale, Chummy, 7cwt Van, Short Two.
To encourage the maintenance, running and preservation of Jowett vehicles; whether car, commercial, vintage, pre-war, post-war, tractor or stationary engine.
To provide members with help, technical back-up, spares and companionship.
---
Profile
Formed in 1923, the Jowett Car Club claims to be the oldest one-make car club in the world. The club has used computers since 1974 and its old website remains here. A forum is accessible to those interested in the Jowett marque and an interactive library is available to club members. Please register on them.
Locally run sections in the UK organise friendly social events.
The annual meeting in May brings hundreds of members and their cars together.
Members provide voluntary services that cater for Jowett owners and those interested in the cars and their history.
An insurance scheme is offered by
with unrivalled benefits. Footman James support the club based on the business they get from club members.
Affiliated clubs thrive in Europe, Spain, America, Australia and New Zealand. Members contribute from many other countries. There is a website devoted to the Jowett Jupiter with some Jupiter Owners Auto Club content.
Compact disk with images of the booklet of the 1926 Across Africa journey available from the Jowett Shop.

Have a look at the epic 1926 journey across Africa and the celebration of it by a group of Australians crossing Australia in three Bradfords in 2008.
Other Links
Visit Wikipedia for a brief history of Jowett cars.
Try CarAndClassic Europe's largest and busiest classic car site.
Find estimates on high quality bfgoodrich tires by discount tire for your car.

Living in Glasgow and thinking of getting a used car to complement your beloved Jowett? Read this first!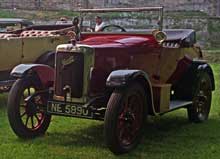 STOLEN.
A maroon Short Two with dickey seat has been stolen. Registration number NE 5890. Please report any sighting to police or inform webmaster. More detail in this thread.
---